Reflection on sunday s gospel mark 2 1 12
That the patient himself had faith, we know from the proclamation of his forgiveness, which Jesus made before all; and we should have been apt to conclude that his four friends bore him to Jesus merely out of benevolent compliance with the urgent entreaties of the poor sufferer. But here we learn, not only that his bearers had the same faith with himself, but that Jesus marked it as a faith which was not to be defeated--a faith victorious over all difficulties. This was the faith for which He was ever on the watch, and which He never saw without marking, and, in those who needed anything from Him, richly rewarding. He could assert that he forgave sins without blasphemy.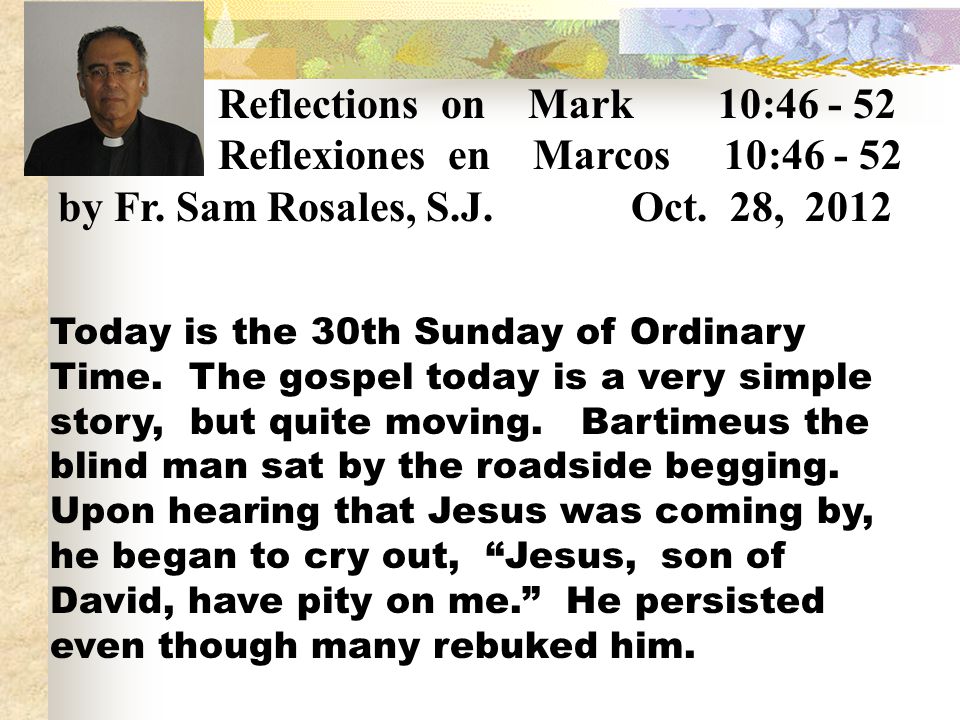 Reflections on the Gospel: Rocks and mud were plentiful in that place so houses were built primarily with mud brick and rocks. Most but not all 1st century homes had a courtyard of some sort, and often animals were kept in the house as well. But perhaps the part of the house that was most different was the roof.
Because of our relatively wet weather we have tended to build houses with gabled roofs. The rain and, especially, the snow can more easily slide off of a gabled roof, and it helps keep the inside much dryer. Consequently it is difficult, if not downright dangerous, to climb up on a gabled roof, so this space is not utilized for living, for the most part.
Not so in 1st century Palestine. First of all, in the very dry climate, with no snow to speak of, there is no need for a gabled roof. The roofs were flat.
So they could be used for a variety of things, and they were. Supported by crude wooden beams and covered with palm leaves and mud, these roofs would be strong enough to support various activities, such as cooking and sleeping.
And in some places notably places like in Bethlehem grain was even grown on the roof. Now in our Gospel text for today we find Jesus at home in Capernaum. Now earlier in chapter one, we learn that Peter and Andrew have a home in Capernaum vs.
James Commentary by James Boyce - Working Preacher - Preaching This Week (RCL)
Now Peter and Andrew were fishermen, which could be a rather lucrative trade at times, so this house was undoubtedly a moderately large house, though probably still pretty small by our 21st century standards. Jesus was inside this house when people who were in need of healing began to converge upon it.
It seems as though this was one of those houses that either did not have a courtyard, or may have had a small courtyard, but it seems that Jesus was inside the living space itself. There is healing available for their friend, but the people and the physical presence of the house itself create a seemingly insurmountable obstacle.
Get the daily readings sent to your email every morning
We encounter obstacles in life all the time. Sometimes these obstacles are bumps in the road; sometimes they can be detours; sometimes they can completely stop us in our tracks. There are even times that we do not recognize the obstacles for what they are — that which keep us apart from others; that interfere with our relationships with loved ones, with others and with God; that which separates us from God.
This appears to be the case in Corinth.
The church in Corinth is out of control. They have set inappropriate rules for being a part of the community, they have found ways to maintain the social divisions of their society, they are clamoring for position and prestige within the community, they are looking for human adulation.
Paul points out, is an obstacle that is separating them from God. Paul suggests to them that as they seek for praise and adulation, for prestige and position, as they turn their back on those in need or pull apart from others who are different and of a different background, position or race than they are — this then has become an almost insurmountable obstacle that is separating them from God.
| | |
| --- | --- |
| My Reflections Reflection for Sunday, February 18, First Sunday of Lent; Mark | Since it was physically imposible for them to approach Jesus they went to the roof, made a hole in it where they could bring the paralytic down through the rope to where the Lord was teaching. This scandalized the Pharisees for it is only God who can forgive sins v. |
| The Collect | The carnival celebrations which in many cultures traditionally precede Lent are seen as a last opportunity for excess before Lent begins. |
| Mk – Sunday Gospel Reflection | Thoughts To Live By | Wisdom and accountability go together Wisdom flows from experience, both individual and collective. Two passages especially in James express this conviction and serve as a kind of mantra that undergirds every other reflection in the letter: |
| Sunday Gospel Reflection Essay – Free Papers and Essays Examples | Do you believe this? |
The 4 friends in the Gospel first recognize the obstacle. They see what they are up against and then they work together to figure out a way to overcome it. The goal is to get to Jesus. So, they climb up to the roof and begin to dig through the dirt and the hardened mud and the palm leaves.
They do the hard work of digging through the roof in order to get to Jesus. It is the only way.Jan 05,  · Reflection for January 12, Friday of the First Week; Mark Gospel: Mark When Jesus returned to Capernaum after some days, it became known that he was at home.
Many gathered together so that there was no longer room for them, not even around the door, and he preached the word to them. Reflection for Sunday .
Feb 06,  · Reflection for Sunday, February 18, First Sunday of Lent; Mark Gospel: Mark The Spirit drove Jesus out into the desert, and he remained in the desert for forty days, tempted by Satan.
Feb 21,  · Mark – The Healing of the Paralytic Seventh Sunday in Ordinary Time Sunday Gospel Reflection.
Old Testament
Today's gospel narrates to us the cure of the paralytic who was brought on a mat by his four friends to Jesus. Mark You can sponsor this page of The Text This Week.
Reading the Text: NRSV (with link to Anglicized NRSV) at Oremus Bible Browser.; Greek Interlinear Bible. Reflection on Sunday's Gospel Short inspirational reflection on this Sunday's Gospel reading.
English translation of Don Fabio Rosini's homily broadcast on Vatican radio. GOSPEL Mark Translated from a homily by Don Fabio Rosini, broadcast on Vatican Radio.
14th Sunday in Ordinary Time Year B. Long neglected because of its brevity, the Gospel of Mark is now recognised to be a work of genius. Mark's was the first gospel to be written.